Me and a jigger of salt...
So, a few weekends ago (I know, I'm lazy and it took forever to get the few pictures that we do have downloaded onto the computer), we headed to key west with two of our favorite people...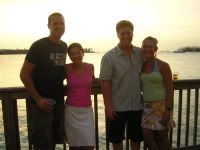 It was blazing hot, but after multiple rum runners and guava margaritas, who was to notice?
Here are a few pics from the weekend: