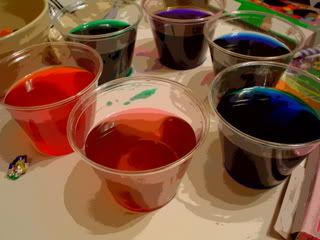 So the lovely ladies
(

missy simone mary o & myself)
came over on Friday night for a little easter egg coloring party. This was possibly the most fun I have ever had coloring eggs. May I proudly introduce our creations (imagine evil cackling here...):
scary bunny egg
via mary o
bling bling egg
via mary o
easter chikins
via miss missy
guido sarducci & t magee
via simone & me
summer lovin
I now have a family of chicklets living in my refrigerator. We had so much fun. I hope you all had a wonderful easter with your families and friends. I know
we
did.