Aren't we the cutest little prom couple you've ever seen?!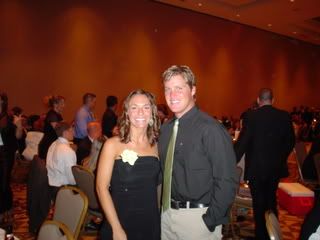 So, I haven't posted in awhile - just not a lot going on. Just work work and more work. Actually, tj and i have decided to be an entirely exclusive couple, meaning we will not be interacting with the likes of any of you from this point forward. Alright, alright, so I'm just trying to make up excuses for the sad fact that no one wants to hang out with us anymore. What a sad story.
Of course you all know this post is a big crock. I love you all. The dapper picture above is from a
firefighter
recoginition (chza-chza) dinner that we attended. Isn't my buddy handsome?
.This past weekend we hopped up to Orlando for surf expo - which really was great fun for me. Those events are like coming home when all the quik/roxy people are out from california. Really good to see all of them. We (tj & i) really weren't into the whole expo party scene this year, and opted for quiet dinners and tv. We hopped over to City Walk at Universal Studios one night and had dinner at Margaritaville - super good. Probably the best meal I had there.

Sunday we jumped over to Melbourne to spend some time with our good friends the Kozack's. We just continued the eating binge with some amazing!! Mexican food that (and I don't say this lightly) put Baja to shame. Miss K just found out that she's pregnant - with TWINS - so while the boys went for a surf, Shannan and I stared at her belly, looked at sonograms, and looked up baby names, all while watching hours of dating, wedding and baby stories on TLC. She definitely has the "glow" that they talk about. I'm so excited for her, I can't stand it!

I've been assistant coaching the girl's varsity volleyball team at my alma mater with my best friend from high school, and that's been an adventure to say the least. We are 0-3 right now, and I don't really expect it to change much. I'll put it this way, 2/3 of our varsity team is made up of freshmen and all but 3 of them have never really played before. So, we're calling this a "rebuilding year".

Anyway, belated birthday to good buddy aaron. Happy 24th. He and Deb have the cutest, fluffiest, puffy puff of a cat i've ever seen. Everyone should run up there to visit him - and bring them a housewarming gift while you're at it!

The Killers are playing this Friday - hoping to see some of you there!